Weekly Fishing Report: May 3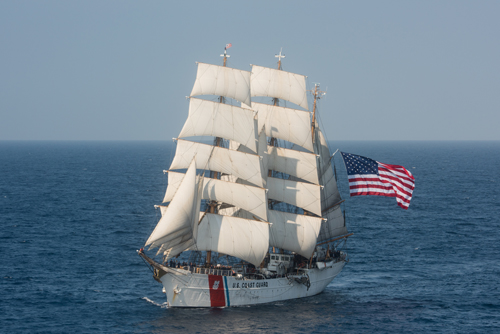 When fishing, the outdoors always presents a side show that can at times surpass the main event. Last Wednesday evening, I happened to find myself out on the bay and came upon the tall sailing ship, the Coast Guard Eagle. For some it has been known that she spent the winter at the Curtis Bay dry docks in Baltimore for maintenance. I happened to luck into seeing her headed down the bay en route to New London, Connecticut to pick up the 2017 season's batch of cadets for sea training. As I watched her go by under power with most likely a skeleton crew onboard, she was a sight to see. Maryland is a wondrous place and the Chesapeake Bay offers plenty of side show entertainment for those who ply her waters.
Today, May 3, is the last day of the Susquehanna River and flats area catch-and-release season. Most would agree it was a season marked with a lot of cold and stained water punctuated in early April with spring tides that turned the area into a mine field of floating logs and assorted debris. Those who have stuck it out have been enjoying outstanding catch-and-release fishing for striped bass in the 30-inch range around the outside edges of the flats for the past week or so.
Hickory shad and American shad are present in the Susquehanna River. The hickory shad have been running up Octoraro and Deer creeks, and the American shad can be found near the Conowingo Dam pool. The hickory shad runs are often governed by warm sunny weather and cool rain events. If you are driving a long distance, be sure to keep an eye on recent weather.
There are plenty of flathead catfish and channel catfish to be caught in the lower Susquehanna this week on various cut bait or chicken liver. White perch are in the river and the fishing has been extremely good for those fishing with shad darts or bottom rigs baited with bloodworms. For those who enjoy this wonderful eating fish, it is a good time to get in on the action for some large filleting size perch.
Generally speaking, the action for trophy sized striped bass in Maryland's portion of the Chesapeake Bay has been very slow up to this week. If I was ever to place my bets on when to be out trolling, it would be this week. The first full week of May usually offers the best chances, and last year there was what might be described as a 4-day blitz in the middle and lower bay regions. Up to the day of writing this report, the action is still being reported as slow. The weekend and beginning of this week was also hampered by small craft warnings, so hopefully better conditions will prevail later on and into the weekend. They do call it fishing.
In the upper bay region below the Brewerton Channel, the Spring Trophy Season continues and the action has generally been slow with a fair portion of the boats returning to port with a skunk onboard. There were reports from last weekend of pre-spawn fish still being caught. If this upper bay fishery is going to kick into gear, this is the week that it usually happens. The best places to troll have been the Triple Buoys and Love Point channel edges and the Craighill Channel just above Sandy Point Light. This area, what many call Podickory Point, has also been a place where those chunking or chumming have been having success. The Bay Bridge Piers that are in deeper water have also been holding large striped bass and are always worth a few passes if trolling or jigging with large soft plastics. If you are brave enough to anchor up current of the bridge piers, chunking can also be a good option. Unfortunately, the area around the bridge is what could be called a graveyard of anchors due to debris laying on the bottom.
The middle bay region success rate for catching large post-spawn striped bass has been better than the upper bay region this week, but so far has been disappointing in its own right. It suffices to say you will have to work for your fish unless the fish gods smile upon you. Boats have been plying back and forth across the shipping channel from just below the Bay Bridge to below Breezy Point. It would be optimistic to call trolling a slow pick. Fish are being caught and it only takes one of these to make someone very happy.
Some of the traditional steep channel edges to check out would be Bloody Point Light, the Gum Thickets, Thomas Point, the channel edge west of Poplar Island and down to off Taylor's Island. Lure colors have settled down to chartreuse and white and a chartreuse parachute with a white sassy shad tail has been very popular; sort of the best of both worlds. Surface water temperatures in the middle bay region have just kissed 60°F this week, and with warmer weather ahead, they will continue to climb.
In the lower bay region, captains have been working the shipping channel edges and picking up a few trophy sized striped bass, but generally speaking, again, the action has been slow. The western edge of the shipping channel from Cedar Point past Cove Point has been one of the better places to troll. The eastern edge of the shipping channel from Buoy 72 up to the CP Buoy has been another good place. The mouth of the Potomac River to Smith Point so far this week has not been good, but that could change quickly. The post-spawn striped bass have to leave the Woodrow Wilson Bridge to D.C. area at some point, and when they do the fishing should improve greatly.
Fishing for white perch has been good in most of the tidal rivers in all regions of the bay. They have settled into their summer habitat and are eagerly taking small lures and bottom rigs baited with bloodworms or grass shrimp. Channel catfish offer good fishing in most tidal rivers, and the tidal Potomac holds large numbers of blue catfish. Hickory shad are still present in the upper Choptank and Marshyhope Creek but will begin to fade out this week as spawning commences.
The locust trees are in full bloom, and traditionally this event marks when blue crabs undergo their first shed of the season. Early season crabbing has been good for many for sweet tasting rusty bottom crabs that survived their winter in the bottom of the bay. The Winter Blue Crab Dredge Survey results have been out since April.
As crabbing season begins, it's a good time to mention that if you're using the classic orange plastic basket commonly seen in commercial fishing circles, this basket does not represent what is considered a bushel by law. The commercial fish baskets actually hold more than a standard bushel which is determined by the common wooden basket. If you use these plastic baskets, do not fill them to the top, or you could face a summons.
In the western region, walleye fishing at Deep Creek Lake has been good for those drifting along deep rocky edges with minnows. Walleyes can also be caught before sunup or at sundown by casting lures from shore along steep edges. There are plenty of rainbow trout swimming around in the lake and smallmouth bass fishing has been good. Northern pike also add some excitement and can be found at the mouths of some of the larger coves areas. The upper Potomac River is reported to be running high with stained water conditions.
Trout fishing continues to be good in the trout management waters, and generous stockings are taking place every week in the put-and-take areas. Crappie fishing remains very good in many of the impoundments scattered across the Maryland landscape as well as most tidal rivers. Minnows or small jigs under a slip bobber worked near deep structure is a sure fire way to catch them.
Largemouth bass are finished spawning in most areas of the state and are actively feeding to build up body stores after spawning. Grass beds in relatively shallow areas near the spawning areas as well as the mouths of feeder creeks are good places to target. Unweighted stick worms are a good bet in the grass. Topwater lures are also a fun way to work some of the shallower areas. Tidal rivers are always a fun place to fish for largemouth bass, and, of course, the tidal Potomac continues to be an outstanding fishery. The tidal rivers of the lower Eastern Shore tend to get overlooked except by locals, but these rivers provide picturesque places to fish for a mix of largemouth bass, chain pickerel and northern snakeheads. A falling tide is often one of the better times to work the edges of grass and spatterdock fields.
There certainly has been an air of excitement along Ocean City beaches and the inlet area for more than a week now. Large migrating bluefish that are moving north have been on the prowl for anything to eat. Looking at them, it's easy to see they are emaciated from the long swim from southern waters with few stops at local snack bars along the way. They are all head, but certainly fun to catch. Surfcasters have been catching them on bottom rigs baited with cut baits or finger mullet. At the inlet cut baits, Got-Cha lures or anything else that looks good to eat are being eagerly taken by bluefish. The local tackle shops are doing a brisk business in replacing tackle lost to those big teeth so fishermen and shop owners are all happy.
Tautog are also being caught at the inlet and the Route 50 Bridge area along with a few flounder. In the surf, large bluefish tend to be targeting any large cut bait in the surf, but a few medium-sized black drum and short striped bass are being caught. There are also blowfish in the area. In the back bay channels, flounder are being caught on white gulp baits as well as the standard squid and minnow baits. Short striped bass are providing some entertaining catch-and-release fishing.
The boats headed out to the wreck and reef sites report good fishing for tautog. Some decided to head farther offshore this past weekend targeting the Triple Zeros area; they came back to the docks with the season's first yellowfin tuna, dolphin and bluefin tuna. Others fishing near the 30 Fathom line came back to port with a couple of nice sized mako sharks.
For the offshore tuna anglers, NOAA Fisheries has announced Effective April 30, 2017 through Dec. 31, 2017, the bluefin tuna daily retention limits are the following: For HMS Angling-permitted vessels: 2 school BFT (27 to under 47″) + 1 large school/small medium BFT (47 to under 73″); for HMS Charter/Headboat-permitted vessels: 3 school BFT + 1 large school/small medium BFT. Click here for more information and further updates on the federally managed offshore species.
"Surf fishing is to saltwater angling what trout fishing is to freshwater. It's a one-man game from start to finish." -Van Campen Heilner
ABOUT THE AUTHOR Keith Lockwood has been writing the Fishing Report since 2003 and has had a long career as a fisheries research biologist since 1973. Over the course of his career he has studied estuarine fishery populations, ocean species, and over a decade long study of bioaccumulation of chemicals in aquatic species in New Jersey. Upon moving to Oxford on the eastern shore of Maryland; research endeavors focused on a variety of catch and release studies as well as other fisheries related research at the Cooperative Oxford Laboratory. Education and outreach to the fishing public has always been an important component to the mission of these studies. Keith is an avid outdoorsman enjoying hunting, fishing, bird dogs, family and life on the eastern shore of Maryland.​​​
---
Want the Weekly Fishing Report sent right to your inbox? Click here to sign up!
---