Newsroom
For the Maryland Department of Housing and Community Development, April is a month that holds special significance. The U.S. Department of Housing and Urban Development observes this month as Fair Housing Month in recognition of the April 1968 passage of the Fair Housing Act, a title within the Civil Rights Act of 1968. The following year, according to HUD, a gala was hosted in New York City in commemoration of the bill's passage, and observation of this month has only grown since.
Nearly 50 years later, the establishment of the Fair Housing Act, and the annual recognition of Fair Housing Month, is as significant today as it was then. The theme for this year is "Fair Opportunity in Every Community." At the department, that theme is particularly noteworthy because Maryland is as diverse in population as it is in the topography of the land itself. Maryland's population, which has steadily risen over the years, has also seen growth in its minority population. Notably, in Charles County and Montgomery County, minorities — Asian, Hispanic and black — outnumber the white population. Prince George's County is also the wealthiest majority-black county in the entire United States.
Recognizing the need for continual improvement, the department has many programs to help homeowners from all walks of life. The MD HOPE program assists homeowners facing foreclosure through quarterly workshops and the MD HOPE hotline offers year-round foreclosure assistance. In Baltimore City, Project C.O.R.E. — Creating Opportunities for Renewal and Enterprise — aims to make Maryland's largest city a symbol of revitalization through blight removal and the eventual reconstruction and redevelopment of struggling areas in east and west Baltimore.
School children are participating in Fair Housing Month as well. Recently, Secretary Kenneth C. Holt represented Governor Larry Hogan at an awards ceremony for the Maryland Association of Realtors' annual Fair Housing Poster Contest in the community reception room of the State House. Children from across the state displayed artwork depicting the theme "Dreams Come True With Fair Housing."
"We were happy to partner with the Maryland Association of Realtors in teaching the importance of safe, healthy and happy communities as depicted in the wonderful artwork created by our young citizens," said Secretary Holt.
"The commitment to ensuring fair housing and a high quality of life for all Marylanders doesn't stop on April 30," he added. "It's something we strive to accomplish each and every day."
---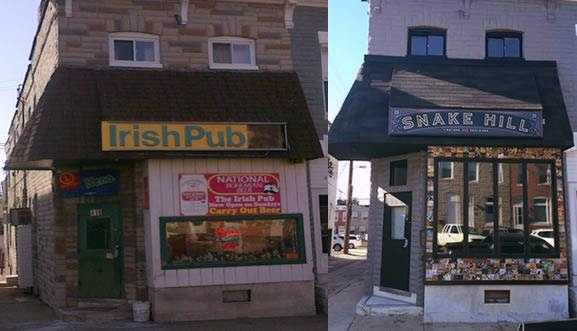 Snake Hill, located in the Highlandtown neighborhood in Southeast Baltimore, was the recipient of a Neighborhood Business Works loan. The exterior is an example of the type of work that will be funded through the Storefront Improvement program, such as expanded storefront windows, new doors, lighting, painting and signage.
BALTIMORE, MD – Today, the Maryland Department of Housing and Community Development announced the awardees of the Hogan administration's Maryland Business Recovery Storefront Improvement Grant Program. The program aims to improve building and storefront exteriors, enhancing  the visual appeal and marketability of individual buildings and commercial districts affected by the civil unrest in 2015.
In partnership with three nonprofit organizations, the program also includes architectural design and workforce development. The Neighborhood Design Center will help to coordinate architectural design services from firms that will provide "pro-bono" or low-cost architectural designs for businesses approved to participate in the Storefront Improvement Program. The Living Classrooms Foundation and Civic Works will hire and train unemployed and underemployed Baltimore City residents to renovate the storefront exteriors.
"The Storefront Improvement Grant Program will help commercial districts become more attractive places to shop and visit," said Department Secretary Kenneth C. Holt. "This investment in Baltimore City supports small businesses, which are the engine that powers Maryland's economy."
The program received 145 applications requesting grant funds to improve more than 180 individual buildings. Of these, the 26 highest priority projects were chosen for award, which will result in exterior upgrades to nearly 50 businesses. Seventy-three percent of these buildings were in areas of concentrated damage after the civil unrest. Each storefront will receive up to $10,000 in improvements.
Award-winners include pharmacies, community centers, convenience stores, retail stores and other businesses in Fells Point, Highlandtown Main Street, Waverly Main street, Park Heights, Pennsylvania Avenue/West Baltimore, Downtown Baltimore, Southwest Baltimore and Pigtown. See attachment for full list of awardees.
Additional projects will be considered for the program when funds are allocated in the next fiscal year.
# # #
CONTACT: Sara Luell, Director of Communications, sara.luell@maryland.gov, 301-429-7803
---
The Town of Snow Hill is one of the first communities in the state to apply for the new Main Street Affiliate program.
New Carrollton, MD – Designation as a Main Street Maryland community guarantees visitors an authentic taste of Maryland charm – historic architecture, boutique shops, theater, art galleries and one-of-a-kind dining. Twenty-eight carefully selected Maryland communities have qualified for the Main Street Maryland program and many more are clamoring to join.
Now there is an interim step.
The Maryland Department of Housing and Community Development is launching the Main Street Affiliate program to help smaller towns and communities develop downtown revitalization strategies of their own. The program means resource and technical support. For those who want it, affiliate status could be the first step to becoming a full-fledged Main Street Maryland community.
The affiliate program is designed to assist communities with economic development strategies that are at a variety of readiness levels, including:
Communities that are in the early stages of preparing to submit an application for Main Street Maryland designation.
Communities that may not be eligible for Main Street Maryland designation, but are interested in addressing local housing and community development challenges through the Main Street approach.
Participation in the affiliate program helps downtown communities transform themselves by tapping into those assets that make them special using tested principles established by the National Main Street Center.
The Town of Perryville in northeastern Maryland and the Town of Snow Hill on the Eastern Shore are among the first to apply.
"This is an exciting opportunity for the Town of Perryville," said Mary Ann Skilling, director of planning and zoning for the town that is nestled near the Susquehanna River. "Through the affiliate program, the town will be able to move forward with ideas and get assistance in creating a thriving commercial district to both retain and attract businesses."
Applications to participate in the affiliate program are accepted on a rolling basis.
Click here for an application and to learn more about the benefits of the Main Street Affiliate program.
---
On Monday, April 4, Deputy Secretary Ellington C. Churchill, Jr., was interviewed by Dr. Otis Cutler on WOLB 1010 AM.
The Deputy Secretary spoke about the department's role, mission, and programs with an emphasis on activity and programs in Baltimore City, including Project C.O.R.E.
Listen to the interview below or on YouTube.
---
Kelly Vaughn, the Director of Community Outreach for the Maryland Department of Housing and Community Development, has made it a mission to help Marylanders faced with foreclosure.
Vaughn recalled an incident in 2009, not long after she'd been to her first Mortgage Late? Don't Wait! clinic in her capacity as the director. In her enthusiasm, she went out before the event and personally canvassed her neighborhood. Not long after the event, a neighbor called to let her know that another neighbor across the street was being evicted as they spoke. The landlord had failed to pay the mortgage on the home, leaving the tenants with nowhere to go. Witnessing that moment, Vaughn said, "made it real" for her.
Even now, as the market has started to stabilize, Maryland is still unfortunately disproportionately affected by high foreclosure rates. The Mortgage Late? Don't Wait! clinics are among the best-attended of their kind nationally, and play a critical role in helping to keep Marylanders in their homes before it's too late. In 2008, shortly after the housing crisis gripped the country, the Department of Housing and Community Development began the clinics — first at a county level and now with a regional focus and open to anyone. Vaughn noted the first one she attended in 2009 had more than 1,000 people present. More recently, as the market has become more stable, the clinics have attracted between 200 and 500 people.
Partnerships with federal and local organizations, like the Department of Housing and Urban Development, have been crucial to making these events successful. People who participate view Mortgage Late? Don't Wait! as a trusted brand, Vaughn said. The day features presentations on everything from how to avoid fraud for both renters and homeowners to how to navigate through the mediation process. Attendees also receive one-on-one attention in the form of a chance to sit down with professionals and consult with them on how to remedy these situations.
"Our loan servicers, pro bono attorneys and housing counselors play a critical role here" in making the events as popular and successful as they have been, Vaughn said. "I look at it as … a road map to navigate through the waters of foreclosure. Homeowners didn't get into their current situation overnight. The message is we want them to know they have options. We've continually heard that they find these valuable, and if they had to go through this alone, they'd probably give up. … They need hope, and this administration does care. They're not in this alone."
This year's first Mortgage Late? Don't Wait! clinic will be held on April 16 in Baltimore County. The event is free to attend, and online registration closes on April 14. Register here.
Two more clinics will be held: one in June in Prince George's County at the Prince George's Sports and Learning Complex and third in September in Charles County at the College of Southern Maryland's La Plata campus. For more information, visit mdhope.org.
---
Main Street in the Town of North East is an example of the fine quality of life available in Maryland's sustainable communities.
New Carrollton, MD – Maryland's  newest sustainable communities are as diverse as the state itself.
Cecil County, on the state's Eastern Shore, boasts two of the newest additions: the town of Rising Sun and the town of North East. Both are rich with historical landmarks, natural beauty and plenty of modern amenities that seamlessly combine both the new and old. Visitors to North East, for example, can learn more about the town's rich history as a significant spot for watermen on the Chesapeake Bay by visiting the Upper Bay Museum. Rising Sun was originally considered part of Pennsylvania, but in 1760, with the advent of the Mason-Dixon line, the town was found to sit below the line and thus part of Maryland.
Elsewhere along the Chesapeake, the town of Rock Hall, in Kent County, once served as a port for tobacco and other agriculture and was visited by some of the country's Founding Fathers. These days, the town is a favorite of boaters and fishermen as well as people simply hoping to spend some time taking in the area's natural beauty.
Oxon Hill, located in Prince George's County, boasts the National Harbor, which is quickly becoming one of the most popular spots in the state for dining, recreation and shopping and cultural events. Closer to Baltimore, Carroll County's town of Hampstead was originally a small farming town bisected by the Western Maryland Railroads. These days, it's a modestly sized town with a thriving main street.
Cecil County – Town of Rising Sun
Built around the tavern, "Rising Sun," the Town of Rising Sun has since expanded into a bustling historic district. The town is already home to green spaces such as Veteran's Park, Triangle Dog Park, and Diddie Richardson Park. The area also boasts multiple large community events, such as Sunfest, Spooktacular, and a Color Run. With these assets, the Town of the Rising Sun is in a good position to encourage and increase area pedestrian and bike connectivity and recreational opportunities. The town is not only seeking designation as an Arts and Entertainment district, but is also planning to improve streetscaping to promote town unity and a greater sense of place.  The Town plans to identify additional opportunities for parking downtown, promote property rehabilitation programs for both small businesses and home owners.  To help promote environmental sustainability, the Town has a strategy to minimize water pollution in the Octoraro Creek Watershed.
Cecil County – Town of North East
The Town of North East is conveniently located near several parks and recreation sites, such as Elk Neck State Park, Turner Park, and Herring Snatcher Park. With support from State programs, the Town plans to bring in more small businesses and attract more homeowners. The town is seeking to address pedestrian safety concerns by identifying and reconstructing sidewalks with large unsafe gaps, and also putting in new street lights in previously unlit areas. The town also plans to create opportunities for small businesses to grow and thrive with tenant fit out and façade improvement programs. For the residential community, the Town would like to see an increase in the rehabilitation of older homes to attract more homebuyers. The Town of North East is also looking to continue to support its parks and green spaces through capital investments, improved stormwater management practices, green streets, and rain gardens.
Kent County – Town of Rock Hall
The Town of Rock Hall, referred to as "The Pearl of the Chesapeake, is an active waterfront community on the Chesapeake Bay. The Town is located along the Chesapeake Scenic Byway and also boasts a historic, pedestrian friendly Main Street. The Town of Rock Hall's plans are aimed at increasing tourism, revitalizing Main Street, and attracting homeowners. Specifically, the Town would like to establish a façade improvement program, increase parking in downtown, and repair sidewalks to improve pedestrian connectivity between the historic Main Street and popular waterfront.  Coupled with plans to organize more community events, these activities aim to support small businesses in the area. The Town would also like to encourage the rehabilitation of older, aging housing stock while preserving affordability for its residents.
Carroll County – Town of Hampstead
The Town of Hampstead is seeking to improve its historic Main Street.  To support small businesses, reduce vacancies and beautify the Main Street, the town plans to establish façade improvement and tenant fit out programs. Furthermore, the town plans to add additional parking sites to accommodate commercial activities. The town will also address issues of pedestrian safety by repairing sidewalks and adding light fixtures. To promote home ownership and energy efficiency, the town plans to encourage the use of weatherization grant programs in older homes. The town will also move to become more environmentally friendly through stormwater management programs, such as rain garden planting.
Prince-George's County – Glassmanor-Oxon Hill
The Glassmanor-Oxon Hill community has significant plans to improve the quality of life in the area.  These plans aim to improve various issues such as public safety, water quality and access to healthy food options.  Plans for low impact development and green infrastructure will help manage stormwater runoff and improve the quality of water. Furthermore, efforts to reduce the amount of litter and illegal dumping in the Winkle Doodle Channel will reduce water pollution. To improve access to healthy food options, the Town plans to plant gardens near and on school grounds. The Town also aims to improve public safety through increased lighting and other environmental design techniques, providing bicycle facilities, increasing pedestrian walkways, and upgrading crosswalks. Plans for commercial revitalization include improving building facades and public spaces.
---
LEGAL NOTICES
 UPDATING MARYLAND'S ANNUAL PLAN
Under the guidelines established by the U.S. Department of Housing and Urban Development (HUD), notice is hereby given that the Maryland Department of Housing and Community Development (DHCD) will hold a series of public hearings to develop its new draft Annual Plan update of the State's Consolidated Plan.
The Consolidated Plan is a five-year planning document required by HUD that sets out overall Statewide goals and priorities for housing, community development, and economic development activities.  Special emphasis is given under the Plan to provide assistance for extremely low, low, and moderate-income persons.  In addition to being a planning document, the Consolidated Plan also serves as the State's application to HUD for Community Development Block Grant (CDBG), HOME Investment Partnerships (HOME), Emergency Solutions Grants (ESG), Housing Opportunity With AIDS (HOPWA) and the Housing Trust Fund (HTF).  These funds are used primarily in the State's rural areas, as many communities, including Anne Arundel, Baltimore, Harford, Howard, Montgomery, and Prince George's Counties, as well as the cities of Annapolis, Baltimore, Bowie, Cumberland, Frederick, Gaithersburg, Hagerstown and Salisbury receive their own funding directly from HUD.
In addition to the above, it should also be noted that the Consolidated Plan also makes it possible for DHCD, public housing authorities, local governments, nonprofit organizations, community action agencies and others to apply for funding under HUD's competitive grant programs.  Local public housing authority Plans must be consistent with the State's Consolidated Plan, and USDA Farmer's Home housing programs and Federal Low-Income Housing Tax Credits are also coordinated with the Plan.   Lastly, while not directly covered by the Consolidated Plan, HUD funding allocations for the Section 8 Certificate and Voucher programs may be made in a way that enables jurisdictions to carry out their Consolidated Plan.
In developing its five-year Plan, the State determined it would focus its resources on four main priorities:  Revitalizing Communities, Expanding the Supply of Decent Affordable Housing, Providing Homeownership Opportunities and Reducing Homelessness. The Annual Plan update (which will be for the second year of the current Five Year Plan) will establish one-year goals for these priorities.  It is for this purpose that we are holding public hearings – to gain input regarding how to carry out these goals in the coming year.
The draft Annual Plan has been written. It should be noted that HUD has changed the Annual Plan from a written document to a largely online tool using pre-filled data. DHCD has written a draft Annual Plan, using the new online system using the data that HUD has provided, and has opened a 30 day public comment period beginning April 1, 2016.  A second set of hearings will be held beginning the third week in April. Written comments (by both email and standard mail) will also be accepted at the hearings, or may be submitted in writing through COB Sunday, May 1, 2016 (at the address listed below).  The final version of the Annual Plan will be submitted to HUD on or around May 17, 2016.
The draft Annual Plan is available on-line on DHCD's website at http://dhcd.maryland.gov/Pages/default.aspx It can be found under the "Publications" heading at the bottom of the website.  In addition, copies of the draft Annual Plan are available at the following libraries:  the Enoch Pratt Free Library in Baltimore, the Blackwell Library in Salisbury, the Washington County Free Library in Hagerstown, the Lewis J. Ort Library in Frostburg, the Frederick Douglas Library in Princess Anne, and the Southern Maryland Regional Library in Charlotte Hall.  A large print version is available at the Library for the Blind and Physically Handicapped in Baltimore.  Free copies of the draft Annual Plan are also available by calling, writing, or e-mailing the address and phone numbers listed below.
The second set of hearings on the draft Annual Plan will be held at the following dates, times, and places:
Tuesday, April 19, 2016 at 7:00 p.m.
Maryland Department of Housing
and Community Development
First Floor Conference Room
7800 Harkins Road, Lanham, MD
Wednesday, April 20 at 1:30 p.m.
Caroline County Central Library, Small Meeting Room
100 Market Street, Denton, MD
Thursday, April 21 at 10:30 a.m.
Fairview Branch Library, Small Meeting Room
Rt. 4 and Chaneyville Road, Owings, MD
Friday, April 15, 2016 at 1:30 p.m.
Allegany County Office Complex, Commissioner's Conference Room 212
701 Kelly Road, Cumberland, Maryland
All of the hearing rooms are accessible to persons with disabilities.  Persons requiring a translator should request one at least three days prior to the hearing they plan to attend.  Any questions or comments should be directed to me at the address, phone numbers, or e-mail listed below:
Ms. Ja'Nai C. Keith
Housing Policy Analyst
Maryland Department of Housing and Community Development
7800 Harkins Road
Lanham, Maryland 20706
(301) 429-7445 or Maryland Relay for the Deaf at 1 (800) 735-2258.
ja'nai.keith@maryland.gov
---
Annapolis, MD – Creating affordable rental housing opportunities across the state creates jobs and stimulates the economy while providing quality, energy-efficient homes for families, senior citizens and individuals with special needs, said Secretary Kenneth C. Holt during remarks at the 2016 Maryland Housing Day event.
The secretary said programs such as Rental Housing Works provide invaluable financial resources for increasing the supply of affordable rental housing in Maryland.
Maryland Housing Day is an annual event sponsored by the Maryland Affordable Housing Coalition to remind lawmakers of the importance of affordable housing to the state's economy. Members of the coalition include developers, contractors, lenders, investors, architects, engineers and property managers, as well as local governments, housing authorities and community organizations. The coalition is an alliance of more than 185 businesses and organizations involved in the affordable rental housing industry.
Secretary Holt remains committed to expanding housing and community development opportunities through programs such as the recently announced Project C.O.R.E. Project C.O.R.E.'s holistic approach will create even more opportunities for affordable rental housing and support economic recovery in Baltimore City, Secretary Holt said.
Speaking on the administration's new student debt initiative, Secretary Holt described a unique plan to combine a potential home buyer's student loan debt with their mortgage of a department-owned property, enabling monthly savings and increased accumulation of home equity.
"Economic development is the keystone of the Hogan administration's platform to change Maryland for the better," Secretary Holt said.
---
BALTIMORE – A cool new coffee bar, Kool Beanz, has opened in Baltimore's Mount Vernon community, a block away from the University of Maryland Medical Center's Midtown campus. The Maryland Department of Housing and Community Development provided critical funding to transform the vacant three-story building into a viable mixed-use development, thanks to a $91,000 loan through the Neighborhood BusinessWorks program.
In addition to the retail space, the renovations added five studio apartments, a rooftop entertaining area, and a laundry facility. Each apartment features hardwood floors, stainless steel appliances, central air, an intercom system and free cable/internet.
Neighborhood BusinessWorks loans provide flexible gap financing to small businesses locating or expanding in locally designated neighborhood revitalization areas throughout the state.
"Our small business lending programs play a critically important role in strengthening our economy, strengthening our communities and creating jobs that help strengthen Maryland families," said Maryland Department of Housing and Community Development Secretary Kenneth C. Holt.  Read more…
---
ANNAPOLIS – Homeownership loans through the Maryland Mortgage Program more than doubled in 2015 with the overall value of loans totaling more than $638 million, the Hogan administration announced today.
The dramatic increase in sales marked one of the program's most productive years in nearly a decade and is seen as a sign of the state's steadily strengthening housing market. Sales also were boosted by several successful initiatives that opened new homeownership opportunities to hardworking families throughout Maryland.
"We are committed to increasing jobs, improving the state's fiscal outlook and putting more dollars back in taxpayers' pockets," Governor Hogan said. "A healthy housing market is the key to a healthy economy. Through the Maryland Mortgage Program, more families are able to put down roots in our state and create long-lasting financial stability." Read more…
---